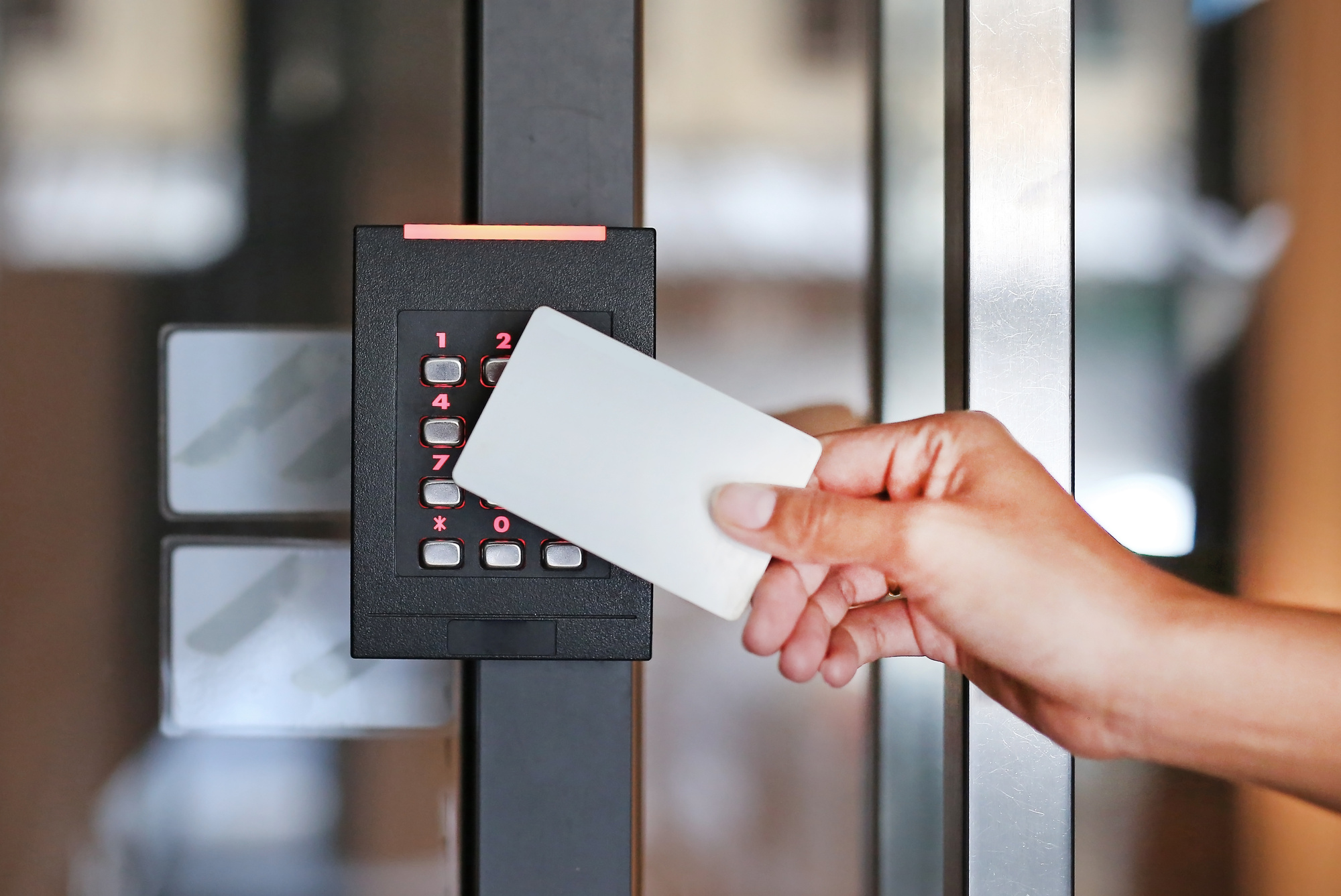 What Are The Types of Access Control Available to Your Business?
Types of Access Control Available for Business
Modern access control options offer services that are far superior to the old lock and key system, with a variety of options to suit your business needs. Find out more about what's available today and choose an up-to-the minute security solution to secure your premises before it's too late.
Keycard access is a best access control you can have for your business. Traditionally, the only way for most companies to keep their facilities secure was by relying on the old-fashioned lock and key. Companies would then provide their employees with the keys they would need to gain access to certain parts of their facilities. The was the best way to limit outsiders from accessing secure areas of a building.
Times have changed quite a bit, though. Today, companies can use many different types of access control systems which provide a more robust, streamlined and efficient solution. Access control technology has evolved substantially over the years. It's easier than ever for companies to increase security without having to rely on the traditional lock and key as they've done in the past.
If you want to beef up security in your building, you can do so by using one of the many access control options available to you now.
Have a look at a few of them below:
Gate Entry Keycard Access Systems
One of the best ways to limit who is able to come into and out of your company's building is by installing a gate entry system that will keep tabs on people before they even get on to your property.
With a gate entry system, you can make sure that everyone who makes it to your facility has the proper security clearance to do so. Some companies choose to give their employees key cards to use at the gates to their facilities, while others opt to have security guards in place to wave people in or turn them away.
Regardless of which approach you ultimately decide to take, a gate entry system is an excellent way for your business to control access to your building right from the very start.
It will serve as your first line of defense and will make your facility appear more secure to those looking in from the outside.
Keycard Systems
Keycard systems are one of the most popular access control methods available to businesses. It doesn't matter if you're running a small store or a large corporation. You can benefit from a keycard system.
The keycards that are utilized as part of keycard systems are about the size of a credit card and typically have metal strips on them that can be used to unlock doors inside of a facility.
The cards can even be outfitted with radio frequency identification technology to make the process of swiping into areas of a facility seamless.
There are so many advantages that come along with using a keycard system. For starters, the doors that are controlled by keycards will lock automatically once a person walks through them, so your employees won't be responsible for doing it themselves.
But more importantly, you will have the ability to activate and deactivate the keycards used with this type of access control system. That means you can cut off access to an employee who has been terminated or chosen to leave your company.
You can also deactivate lost keycards quickly and reissue new ones without having to worry about changing locks.
It's easy to see why so many companies have turned to keycard systems for their security needs. They will likely continue to turn to them well into the future.
Electric Strike Systems and Keycard Access
Do you want to be able to control doors inside of your facility remotely? It can come in handy if you have visitors making their way through a front door all the time.
You can control those doors by using what is called an electric strike access control system.
When you install an electric strike system, a metal plate will be placed inside of a door frame, and you will be able to control that plate with a remote control.
You will also be able to set that plate to keep your doors unlocked at certain times of the day. If you have a door that is used to access a lobby and you want it unlocked during business hours, that will be possible with an electric strike system.
You can then set it to lock automatically so that it's locked once business hours are over.
There are a wide range of electric strike systems that can be used by a bunch of different businesses. You will love the convenience that comes along with using one.
Biometric Reader Systems
While all of the access control systems listed here can be used to make facilities secure, there are some facilities that need to be even more secure than others.
Those facilities could benefit from the latest biometric reader systems. They are designed to make sure that only those with the proper clearance are able to access certain areas. They're ideal for companies who deal with sensitive information.
Biometric readers are different from other security access systems. They work by scanning someone's unique features before granting access to them. They will scan things like a person's fingerprints or even their eyes to verify their identity before allowing them to pass through a door.
If you run a high-security facility, a biometric reader system is your best bet.
CCTV Camera Systems
In addition to installing something like a biometric reader system, those companies that need the best security control systems in the business also turn to CCTV camera systems.
These systems will record every movement that's made within a facility. They can provide high-resolution images of people and things. They can even work with software designed to perform facial recognition, license plate recognition, and more.
When used in tandem with other access systems, CCTV camera systems can ensure that your facility is always protected. They can also provide you with evidence of any wrongdoing inside or outside of your company's headquarters.
Install a Better Keycard Access Control System Today
Is the access control system in your facility lacking right now? Or worse, are you operating without one at the moment?
You can check out the latest advanced biometric and RFID building access systems to see what's available for your company. You can also find out other ways to help your business become more secure as a whole.
Contact us for more information on how we can assist you with all of your access control needs.